Your Effortless,

And Inclusive

Pharmacy
Welcome to Affirming Care,
The Pharmacy Experience 
You Deserve.
Welcome to Affirming Care,
The Pharmacy Experience 
You Deserve.
A Pharmacy For Everyone
At Affirming Care Pharmacy, we break down the barriers of stigma and provide specialized pharmacy services to underserved communities; our focus areas include HIV prevention, trans-care, diabetes, weight management and mental healthcare, but our pharmacy and prescription services don't stop there.
​
We believe in building strong, personal relationships with our patients. By getting to know you, we can offer tailored advice and counseling that meets your unique needs. Managing expensive medications and navigating complex treatment plans can be challenging. Trust our pharmacy and team to provide you with the care you deserve.
Our Mission:
To provide inclusive, affordable pharmacy care to everyone, empowering our patients to live their healthiest lives.
Expert care
Expert care for specialized needs
We're specialists in a wide range of essential services, including HIV prevention, sexual health, trans care, ADHD & mental healthcare, and weight loss. Our pharmacists are here to answer your questions, ready to assist you by phone, text, or email. Experience personalized care and guidance with us today.
Savings
Saving you money on medication costs
We connect you with financial assistance and patient support programs. We've saved our patients over $1 million and counting. Reach out to us to see where our Reimbursement Specialists can make your medications more affordable. Don't let costs get in the way of taking medication you need.
Convenience
Pickup or we'll come to you
Don't let distance or barriers prevent you from accessing the care you need. Utilize our virtual support options and convenient home, office, or preferred location delivery services. Don't worry, we use discrete and tamper resistant packaging. It's free and as fast as same day in Calgary and Toronto.
What Our Patients Are Saying
Contact Us
Affirming Care Ontario
Serving BC, MB, ON and SK patients.
2-2624 Dunwin Dr., Mississauga, ON L5L 3T5
(P): 905.607.6789
(F): 905.820.5427
ontariosupport@affirmingcare.ca
License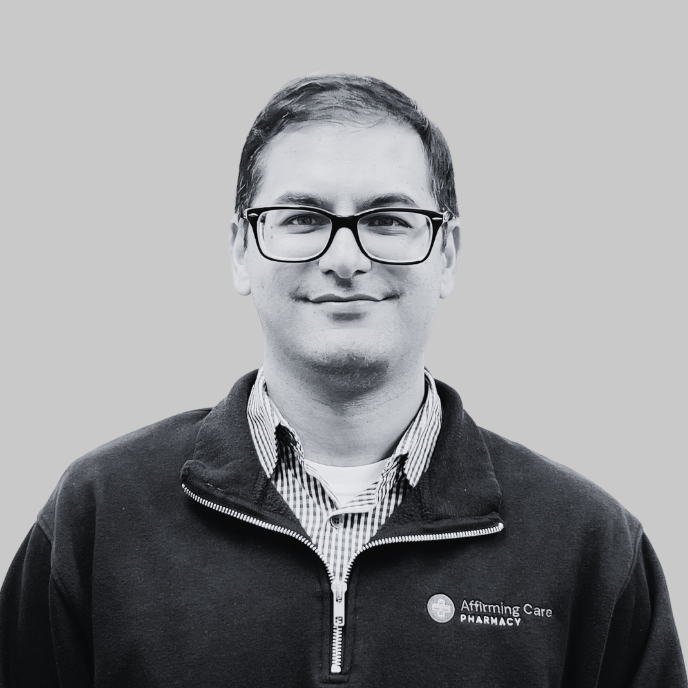 Manager: Aly-Khan Mussani
Ontario College of Pharmacists
Accreditation Number: 309132
Store Hours (EST)
Mon - Thur 9:00 am – 7:00 pm
Friday 9:00 am – 6:00 pm
Saturday ​8:00 am – 12:00 pm
Sunday Closed
Manager: Dhruvin Rawal
Alberta College of Pharmacy
License Number: 4180
Store Hours (MST)
Mon - Fri 8:30 am – 4:30 pm
Saturday ​Closed
Sunday Closed
Meet Your Pharmacy Team
Our experienced pharmacists get to know you and your medical history. They provide comprehensive support, from explaining your medication and coverage options, to carefully monitoring for potential drug interactions, and offering expert advice and counseling. Dedicated to your well-being, a team of pharmacists stands behind every prescription filled.
Aly-Khan Mussani
Pharmacy Director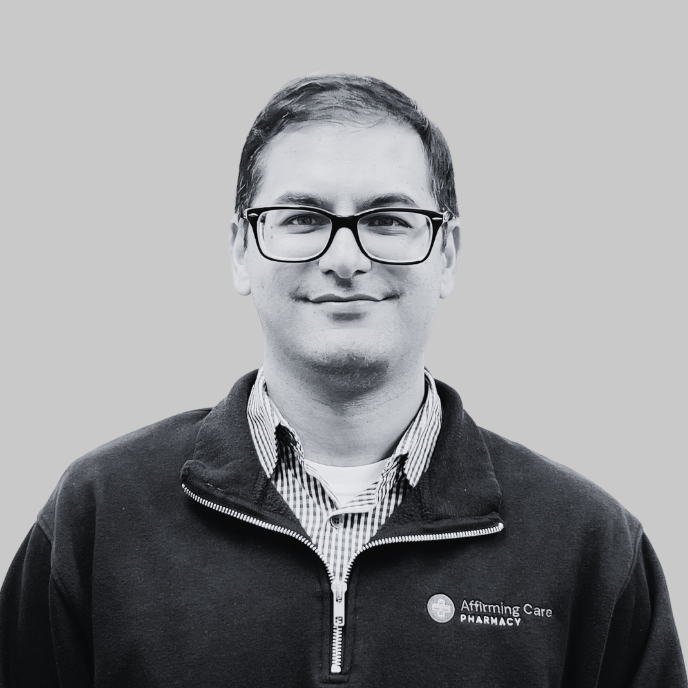 Saloua Abdelhadi
Pharmacy Manager (ON)
Dhruvin Rawal
Pharmacy Manager (AB)
Fax Your Prescription Here
Enhance your experience with Affirming Care. Patient tailored approach and personalized care. Make the switch with your prescriptions and experience the difference for yourself.
Alberta (AB)
1.855.978.2104
Ontario (BC, MB, SK, ON)
1.905.820.5427